Release Stress by Relaxing your Face
Stress creeps up on you until you can no longer ignore it.  It's like filling a balloon with too much air.  The balloon looks like it's coping nicely but all it takes is one more breath of air and it's going to pop.  The stress on the balloon is too much.  It is stretched too thin.
Your own stress levels are much the same.  You can cope with a certain amount. But if you keep piling it on without releasing a little pressure in other ways, you also explode.   You get irritable with others, you show physical symptoms, your blood pressure rises.  And as luck would have it, this can happen at the most inconvenient times.
But there is a simple way to release stress.  And it's staring you right in the mirror.
Mind body connection
It's now widely known, especially since that famous TED talk by social psychologist, Amy Cuddy, that our posture and facial expressions not only reveal how we feel, but can influence how we feel.  So when we slouch we feel less powerful but that by controlling our posture we can master our confidence and improve our mood.  When we smile, even if it's forced, we feel happier.
Similarly, when you tense your brow, right between your eyebrows, it shows many negative emotions such as worry, unhappiness or anger. Your brain notices this facial muscle and interprets the frown as negative emotion.  And if you continue to furrow your brow you actually begin to feel unhappy.
Apparently people who have Botox injections feel less negative emotions because this brow muscle is literally paralyzed (Lewis & Bowler 2009).  I wouldn't advise botox as a cure to your tension.  There is a much less extreme (and cheaper) way to use facial feedback to release stress.
Your face may be showing a multitude of different expressions without your knowledge.  As I sit at my desk, my eyes are often straining after looking at a computer screen or reading for too long.  When I'm trying to remember something or I'm annoyed about the noise outside, my brow furrows.  My jaw tenses which moves down into my neck causing a tension headache.
The face is such a small part of your overall body yet it contains muscles that are able to communicate emotions to others in a millisecond.  But if you're willing to listen, your facial muscles will whisper to you too.
How to relax your face muscles
You want to be able to notice tension before the pressure bu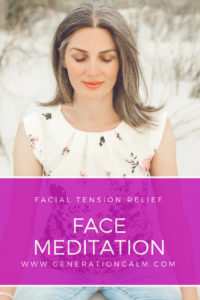 ilds to boiling point.  One of the easiest ways to do this is through noticing the tension in your face muscles.  These physical sensations are the warning signals to pay attention to.
Identify where you are feeling stress in your face. Step by step mentally scan the different parts of your face, starting from the top (scalp, forehead, eyebrows,) moving down (eyes, mouth, tongue) and to the bottom of your face (jaw, chin, neck and shoulders).  The contraction in your muscles may be obvious, sometimes it's less noticeable.  So take the time to really notice the subtle tension.
As you notice the stress, tension or clenching, gently release the grip on these individual facial muscles. If you find it difficult, I sometimes rub my hands together until they're warm and tingly, then place them on whatever muscle I'm trying to relax.  For those of you who are creatively inclined, visualization can help the relaxation process.  Visualize a warm, honey-like substance trickling down over the top of your head and relaxing every part of the face that it touches.
In the future, as you start to feel stressed or are in an anxiety-provoking situation, notice if you're tensing your face. Try relaxing each muscle in turn and see if it makes a difference to your mood.
Remember, the mind and body are interconnected.  So tension in the face can cause stress … and a stressed or anxious mind can cause your face to tense up.
If you need help in releasing facial tension
Use this facial tension release face meditation video to relax your face muscles, in particular to relax your forehead and jaw muscles.
You will notice that relaxing this small portion of your body will have huge results, even helping with tension headache relief.
Like this blog post? I'd love for you to follow me on Pinterest and pin it for later!