Support Psychological Resilience with Community
As healthcare systems, doctors, nurses and other key workers are tested to breaking point during the Coronavirus outbreak in 2020, you too are being tested for your psychological resilience.
In order to carry on with your 'new normal' of doing almost everything within the confinement of your homes… there is a need to cultivate resilience.
What does psychological resilience mean?
Psychological resilience is often described as a characteristic that helps a person do better than expected when facing negative conditions or adversity. Bouncing back from a traumatic incident without too much emotional upset. The actual definition is up for debate, but my personal view is that it is not restricted to extraordinary people but resides in every single one of us.
In your lifetime, you have been hit by life-changing events.  The loss of someone you love, a serious diagnosis, an unexpected job loss, a break-up.  And each time you have bounced back.
But now, as we collectively go through this pandemic, changes are coming at us like a meteor shower, and you may wonder how you will cope.
So how can develop your psychological resilience?
How do you build inner resilience?
Confiding in someone you trust increases resilience. You may be able to list a group of friends on Facebook or say that you have over 10,000 Instagram followers.  But who can you identify as someone who you can trust enough to confide in when things are getting stressful? Often you may identify a close friend or family member, but even then, may not want to burden them with your problems.  Open up…call them…text.  Talking makes a difference, not only to you, but to them.  It increases their resilience too.
Negative experiences are more intense than positive ones, so start focusing on the positive more. Start a gratitude journal.Even in times of great change and hardship, there is something to be grateful for.
Retrain your brain away from threat. In a sea of threatening faces, could you lock on to the one friendly face?  This is difficult, but CBT is a therapy that helps you change the way you think.  You can acquire new habits of thinking that allow you to control negative emotions. Train yourself to think thoughts that will be good for you.  So you can override this fearful state you find yourself in now during Covid-19. Start to develop an understanding of the link between your thoughts and feelings.
Start to notice your thoughts by saying 'I'm having the thought that ……". Once you can step back from a thought and see it for what it really is – a thought, not a fact – you can challenge it and see that it's going to pass.
Name the emotion you're feeling to shift your brain into a state where it can recover more quickly. "I am feeling anxious", "I am feeling angry", I'm disappointed". Often you might feel that naming what you feel gives it power, but the opposite is true. Naming your emotions allows you to see it as a changing entity.
Try starting a daily mindfulness practice – sense the feeling, feel the feeling, feel the suffering.
Get pleasure from doing more good in the world. Make a difference.  You might be able to sew facemasks, organize a Zoom pub quiz, volunteer at a food bank or simply make your kids laugh.
Suffering is inevitable, it happens to everyone, it's what makes us human. In fact, life would be boring without some conflict. So learn to slow down and grow from these hard times. Stop, pause, rest. Find healthy habits or hobbies you can draw upon in hard times.
Visualize a better future. Hope is a powerful resource that can make you feel more positive emotions. Thinking about a better future is not unrealistic, it will guide you. Learn more about guided imagery here.
Listen to this guided meditation for building resilience.
How communities can build resilience
Resilience is not just an individual trait.  It can also refer to a community, place, a family, or country.  At a time of a pandemic we are literally 'all in this together'.  But only if the community we are part of listens and responds to the group as a whole.
And as we collectively go through this pandemic – maybe we should be looking at cultivating our community resilience. Because it's not a health workers responsibility to be burdened with the task of improving resilience by themselves (BTW, if you are a healthcare worker, you may find this interview with Prof. Paul Gilbert helpful). We should be looking at the wider context of how they can be supported while working during this stressful and deadly time. What external factors and environmental factors could help them adjust right now?  This is something the local mayors, government, healthcare systems, public officials, policy-makers and schools should be putting into place now to support the efforts of the key workers.
Dr. Laurie Leitch, a psychologist who works worldwide helping communities build resilience after disasters says social resilience is:
"The timely capacity of individuals and groups – family, community, country, and enterprise – to be more generative during times of stability and to adapt, reorganise, and grow in response to disruption."
Therefore, during stable times, when things are going well in the world, that's when we can be generating creative strategies to deal with stressful situations.
A good example of this was in 1998, when Iceland launched a national initiative to cut alcohol and drug use among teens by funding sports, art and music classes, to offer teenagers alternative ways to feel good. Parents were encouraged to spend more time with their kids and to talk more to their children about their lives.
By adapting to these strategies, Iceland went from having some of the worst statistics for teen alcohol and drug use in Europe to having the best.
The program brought families closer together and increased access to sport and cultural activities. As a result, the teenagers found it easier to resist drugs, and were better equipped to cope with challenges in their lives (big time resilience).  It shows that psychological resilience can be achieved when a whole community and/or country gets together to make a difference.
Another possible solution would be to teach resilience in schools.  By teaching children how to better manage their emotions they will be prepared for tougher times ahead.  This pandemic is the perfect opportunity for school systems to start thinking about this more seriously.  Teaching children how to understand the links between their thoughts and feelings.
How to develop community resilience:
Find and join groups that support and strengthen your values.
Seek out opportunities for community connection for yourself and your family.
Write to your policy-makers and local councils to give your opinions about community issues.
Form your own group by getting together with a couple of like-minded people.
Look at worldwide news and see what is working elsewhere. Look to leaders like Jacinda Ardern's in New Zealand, who emphasize the shared responsibility of a community.
Become a leader in your family, community or local group. Lead the way in showing others how to adapt and adjust to new patterns and not be afraid of emotions or showing empathy for others.
If you have a particular skill set, even if you don't think it's that useful, offer your advice in the form of a blog post or social media post. People who homeschool, sew or know how to use Zoom have done this recently.
Under the right conditions we can all be resilient.
Resilience is a dynamic interaction between individuals and their community so getting involved in your community is vital.
In times like these, you learn to adapt, reorganize yourself and grow in response to disruption.  And in the future, when things go back to normal, training yourself to respond healthily to everyday situations means you'll be even more resilient and able to tackle larger problems when they present themselves.
Don't forget to share this post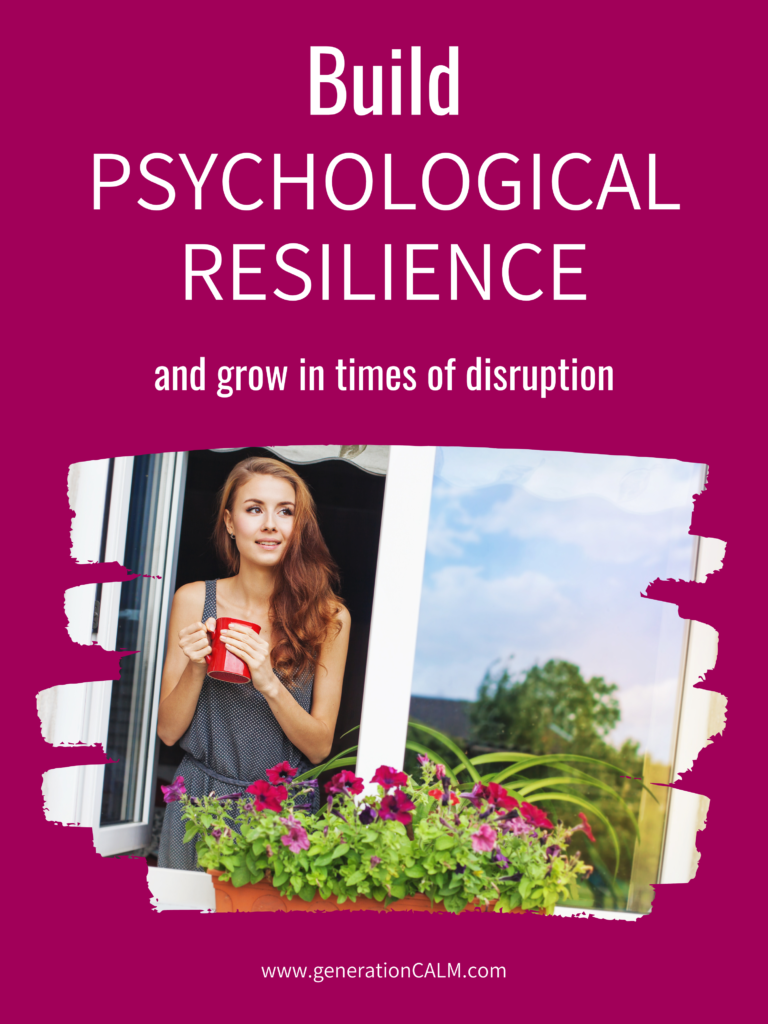 Like this post? I'd love for you to follow me on Pinterest and pin it for later!